Elgato pretty much have the lions share of the TV tuner market and now they give us a Wi-Fi tv tuner for iOS and Apple hardware.  In short this nifty little box is a freeview tv tuner that sends free to air tv channels direct to your iOS  device.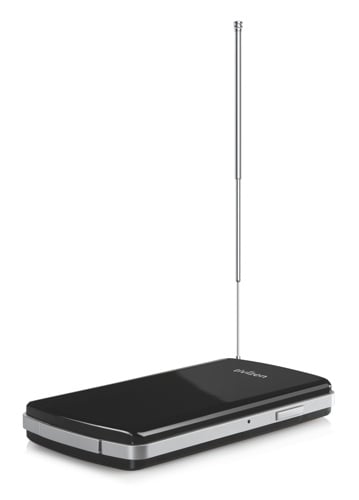 Tivizen, the company that makes this little box,  makes several versions for different digital TV technologies – the Freeview-compatible DVB-T version is the one rebadged by Elgato and Tizi seller Equinux – but they all pick up programmes and relay them over a self-hosted 802.11g Wi-Fi network to nearby iOS handhelds.
Tivizen is battery powered so, unlike most telly tuners, it's mobile. That's handy not only for travel but also so you can easily move it to the best position for Freeview reception.
The gadget has a slide-out 270mm telescopic, pivoting antenna. It also sports a mini USB port, used to charge up the removable 1050mAh battery using any USB power source – a computer or your iPhone's AC adaptor, which is what I used.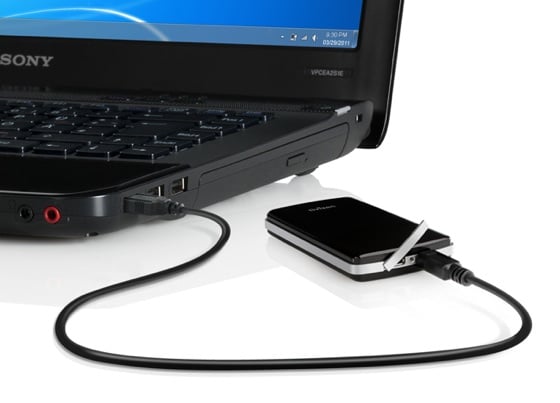 Yes, the irony isn't wasted on us that the promo pics are using a Sony and not a Mac 😀
Elgato claim a 3.5-hour battery life and I'd not cry foul – that's largely what I got. It's not a bad duration considering it's powering both the tuner and the wireless network, but it's clearly not going to last you throughout a typical holiday unless you limit yourself to brief news bulletins.
The device's wireless network is initially open, but does support WPA 2 security. While you might not care about the security of a link used solely to beam over TV programmes, since the hardware can feed only one iDevice at once, you may want to put in place a password to prevent some crafty herbert nabbing your feed.
Net connectivity is maintained through 3G while you're linked to the WLAN.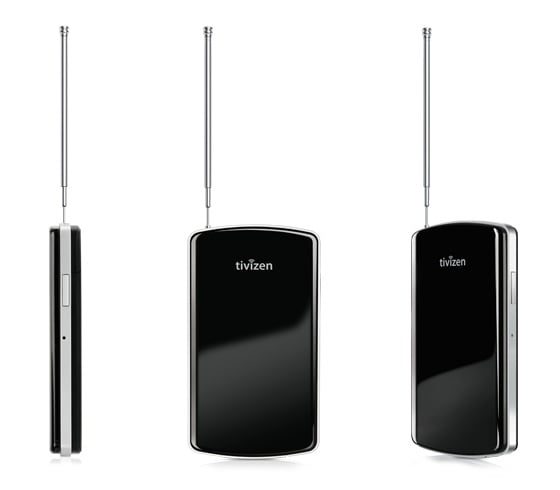 The other point to note about the hardware is its ability as a tuner, which is impressive. Freeview pick-ups with compact antennae tend not to perform too well in the UK, though the once the long drawn out demise of analogue telly is done, it will hopefully improve.
An initial scan for channels found 32 of them, rather more than I usually get with USB-connected tuners that likewise rely on wee aerials.
The catch is that while that means Elgato's software lists more channels, they aren't necessarily available with a sufficiently high signal quality to watch, and a number of times I tapped on a listed channel only to be presented with a bald "No Signal" message even when there's clearly enough signal for the hardware and software to read the EPG data sent out.
The current and the next programme are listed, and you can re-order the channel listing. You can't hide channels you don't want to view.
How it looks in use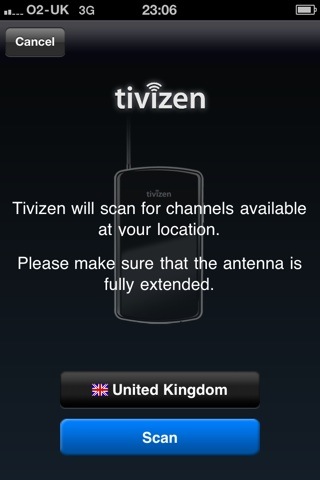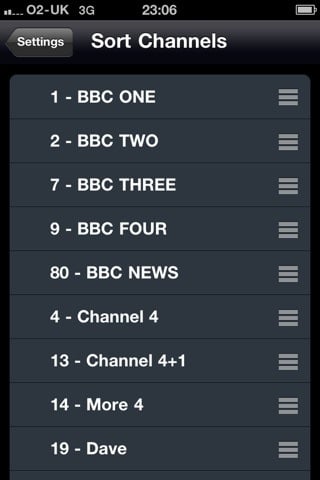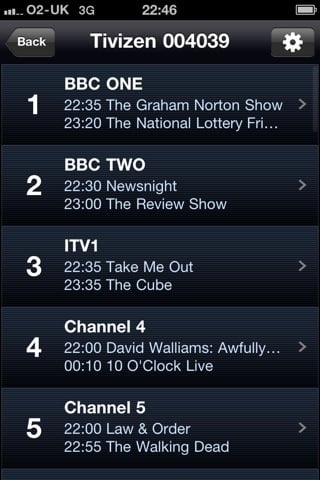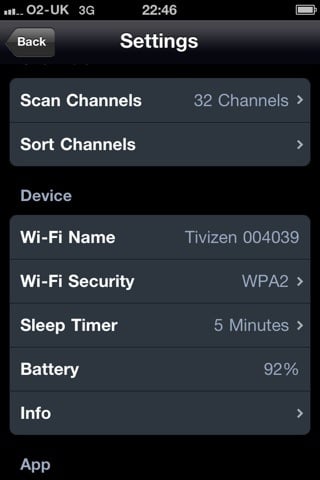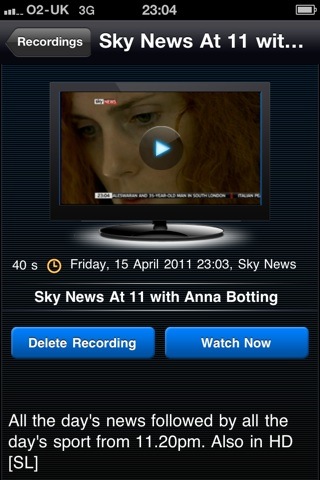 With a channel you can view on the screen, Elgato's standard Eye TV UI appears, and includes both battery and signal-strength readings, plus EPG and channel info. Tap to get rid of this and watch the programme full-screen.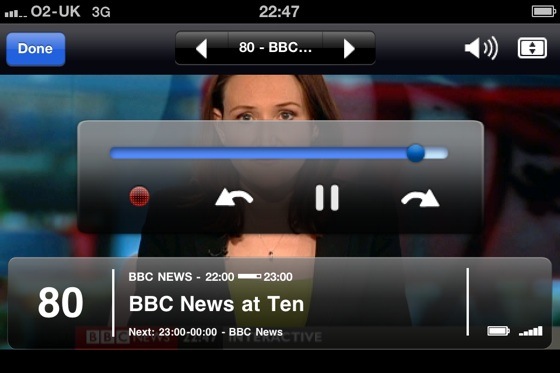 Like the Mac-based Eye TV, Elgato's Tivizen software – available for free, from the App Store, unlike its iOS viewer for Eye TV – has basic DVR functionality: pause and rewind live telly, and record programmes for later viewing. No EPG means no scheduling, of course, but the full-resolution recordings, though MPEG 2 files and accessible through iTunes, are tied to Eye TV.
Alas on my iPhone 4 even channels with a full signal strength didn't play back entirely smoothly, with occasional stutters to spoil the flow. What was the problem, Freeview? Tivizen? WLAN? Elgato's app? It's hard to say where the blame lies, but the latter didn't gain the benefit of the doubt thanks to very frequent crashes. The failures were random and usually came when I tapped on a button or changed menu – a sure sign of memory problems. I don't have a lot of apps running but I shouldn't have to close them manually to suit another one, in any case.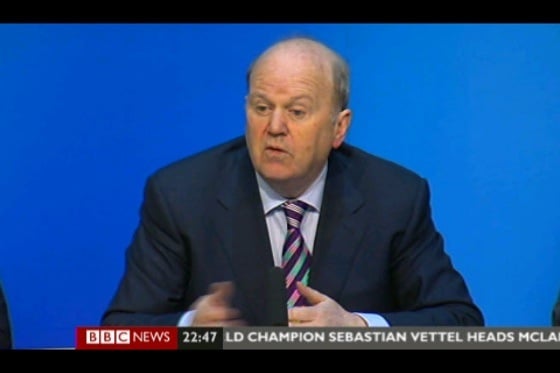 Verdict
Freeview signal strength aside – this affects all mobile tuners – the Tivizen is a clever gadget but one limited by poor initial software. Apps can be updated, of course, but that won't change the fact that, thanks to catch-up TV services like BBC iPlayer and to domestic DVRs, few of us really need to watch telly while we're out and about. Worried about missing something? Watch it later, or watch it online. The picture will be better and your viewer probably won't keep falling over.
Purchasing from the link below directly helps this website grow.
[asa]B004WD0FBK[/asa]
Note: This product is now in the hands of geniatech.eu and the EyeTV app, needed to run with the Tivizen, is available from the App Store and is confirmed to work with iOS 13